By Slavica Squire In Sa događaja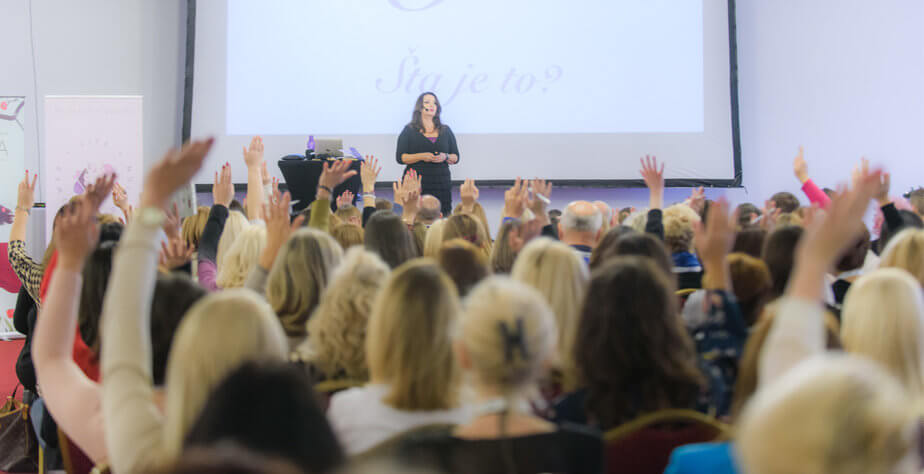 Last weekend, 9-10 December, 2017, a unique authorized training of Slavica Squire Power Life Design was held. During these two days more than 230 attendees from the whole Serbia and all former Yugoslavian countries, but also from Switzerland, United Arab Emirates and France, Luxemburg, Austria… had the opportunity to get specific tools with which they can set clear life goals, design the way to their achievement and identify all the resources already at their disposal which are necessary for their life journey.
During the first day of the training they were getting insight into their present state and recognizing the areas of their lives they want to redesign to realign them with their real needs and goals. They were analyzing their emotional life, business, family relations, relationships with friends, their free time, devotion to personal development, health and other aspects of life and they were given special tools with which they can recognize where exactly they are as well as future steps which lead them towards the desired destination. They were learning how to set goals which lead them towards making their dreams come true and they got different tools with which they can differentiate between the heart goals and the goals imposed by the environment.
During the second day of the Power Life Design Program the attendees had the opportunity to awaken the sleeping life energy which is the key to making their dreams come true. They got specific tools and methods they can use on their own in future in creating the life they wish for, including imagination and visualization as the most powerful means at disposal of human mind.
Happiness and misery require the same level of energy. So, imagine yourself managing your own life, creating your own goals which give you the fuel to do your best every day, imagine waking up happy and living the life you deserve! How does this seem to you?
All that can become your reality if you find courage to step outside your current boundaries! Apply for the next Power Life Design HERE.