Najbolja osveta od svih je sreća
This time, Slavica Squire helps you free from anger and experience happiness...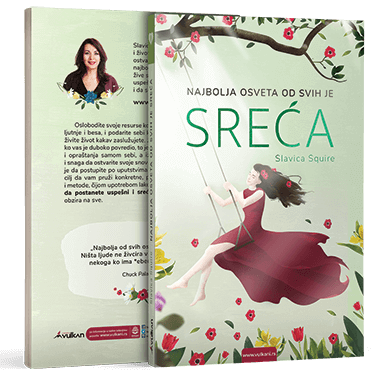 On your personal road to self and the act of taking your life into your own hands, this book can become your support and your guide, but mostly inspiration. It takes you through the most important process in your life – it helps you to spark the courage you keep in yourself and free your internal resources that are captured by your emotions of anger and rage. Working with this book can help you grow wings and easily create and live the life you deserve. All you need is to follow the instructions, as the aim of this book is to provide actionable and tested tools and methods that will aid you in getting rid of burdens from your past, and become successful and happy, as well as stay that way no matter what.
Many would be happier if they would achieve success in a certain field, maybe at work, in love… But have you ever thought about reversing the process?
First be happy, and then you will become more successful in everything you set out to do!
What prevents you from being happy? Who are you blaming today? It is high time you took responsibility for your life and what is happening to you, as only that way will you be able to acquire the absolute power to control yourself and what is happening to you. Whether you have been offended, hurt, angry, sad, or deeply disappointed by someone's actions, you cannot allow the feelings to overflood you to that extent that you cannot emerge to the surface.
No one is responsible for your happiness but you. Don't fight it, don't hide behind your anger – free your potential and achieve success in every field.
Quote

" Forgiveness means forever leaving behind the thought that some things from the past could have happened differently. "
- Coming Soon -

Knjiga o zahvalnosti
Coming out on the spring 2019

Knjiga o veri
Coming out on the spring 2019

Knjiga o ljubavi
Coming out on the spring 2019